1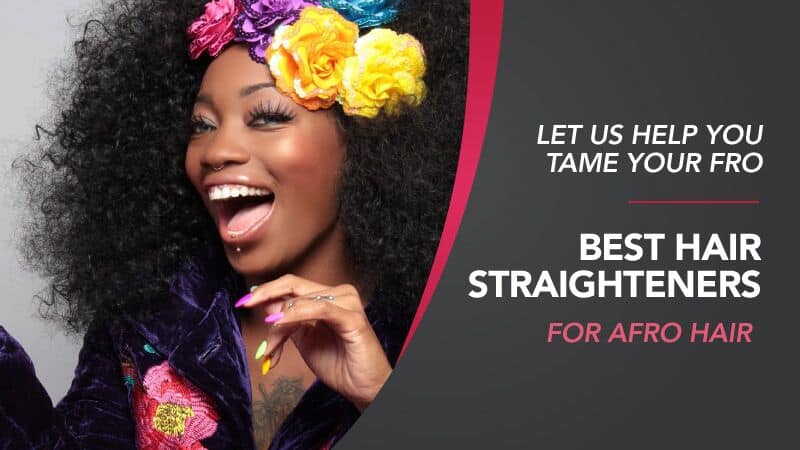 Let Us Help You Tame Your Fro - Best Hair Straighteners For Afro Hair
We all know that the having curly Afro-Caribbean hair can be pretty amazing but getting it straight can be a really hard task.
Its always the way if you have curly crazy hair, you want your hair to be tame and straight but when your faced with boring dead straight hair you would like your have to have a bit of a boost and life to your hair!
Straightening very curly hair is notoriously hard work, and can lead to heat damage and breakage if its not styled correctly, so it's important to do it right.
This is why we have researched and compared the best hair straighteners, that are going to style your Afro-Caribbean hair to perfection.
When your searching for the perfect straightner for your afro hair heres a few things you need to consider; ​
· Plate materials
· Width of the plates
· Length of the plates
· How high the temperature can reach?
· Heat up time
· Safety features
Take a look at our newest found hair straighteners that our customers are raving about for being the 'best hair straightener for afro carribean hair'.
Professional finish, Smoother plates
Cooler, lighter body
Ceramic heaters and contoured plates
Automatic sleep mode after 30 minutes without use
"Make even easier work of straightening thick or very curly hair with the larger plates on the ghd Gold Max styler." - GHD
Top Tips -
Below we have the best tips for styling and preparing your Afro hair for straightening.
1. Never Start With Dry Hair !
- Always start by trying to detangle your hair before you wash it.
- Brush conditioner through your curls whilst in the process of washing your hair, this is a great way to great rid of any knots.
- Rinse off the conditioner, towel dry it and get a brush through it again, by using this process we hope that you avoid any breakages of the hair follicles which is less damage to your hair over all.
- Remember better conditioned hair straightens and styles a lot easier, then dry damaged hair.
---
2. Nourish Your Fro
- Its very important to keep your Afro nourished. So remember to add in conditioning products when straightening your hair this is especially important for curly Afro hair.
- A great little tip is not to spend a fortune on all these conditioning product but just use the olive oil straight from your kitchen, crazy we know but it works!
- Rub a small amount into your hands and run your fingers through your hair, this will just give it enough to keep it nourished and healthy.
- If the oil doesn't work for your particular hair type then you may be better off buying a cheap leave in conditioner.
- It is also a great idea to use a heat defense spray to protect you from any damage whilst straightening.
---
3. Take Your Time
- By sectioning your hair into smaller pieces you will achieve better results. You will get right down the roots by sectioning it.
- It is also important to remember to brush,dry, nourish and then straighten your Afro hair, if you follow this routine it will ensure you get the best results.
---
4. Dry Dry Dry
- Making sure your hair is fully dry before straightening it is essential especially with curly Afro hair as using straighteners on damp hair can cause that horrible sizzling sounds we sometimes here which is exactly what is happening its sizzling and damaging your hair which is not what we are looking for.
---
5. Use Good Straighteners
- Its so important to choose a good quality and highly recommended straightener for your hair as not all hair straighteners with give the amazing result you are looking for with your more difficult hair type.
So follow our guide and choose which straightener suits your Afro-Carribean hair. If you have hair in between straight and afro why not read our best hair straighteners for wavy hair guide.
UK Review Guide 2018 - Best Hair Straighteners For Afro-Carribean Hair
---
If you have afro hair, then a product such as Toni & Guy Moisture Lock Afro Straightener might be right up your street.
Not only does this model give a great performance for thick more difficult hair types, but it also comes with a small price and plenty of useful features.
What you will like the most about this product is that it offers you incredible value for money.
It's a product designed with uniqueness in mind and that's why the design is nothing short of astonishing.
Of course, once you start using the straightener designed for Afro hair, you will be amazed with the great experience that it can deliver, and that's the best thing about it!
Features -
Specifcally designed for afro hair
Short heating time
Easy to maneuver
High quality design
Automatic shut down system
Are you looking for the best straighteners for Afro-Caribbean hair? then look no further.
The Wahl Afro hair straightener is the advanced straightener designed for difficult Afro hair, Wahl have looked and researched what features are needed to style your hair to the best of its ability.
Not only is this fantastic straightener integrated with all the necessary features but is great for value to.
The cool thing is, not only is the model stylish and professional but it has ceramic salon plates designed for afro and frizzy hair which gives you the best results and a great user experience.
The ceramic plates allow a smooth, frizz free and a shiny finish - everything we are all looking for.
Ceramic plates
Designed for afro hair
Auto-shut down after 60 minutes
Variable temperatures
Great value for money under £20
F A Q
Q. Can i use these on my unruly, frizzy, european hair not just afro-carribean?
A. Yes works fab as its features are all design for afro / european style hair.
The She Hair brand have a great reputation in many countries for being top of the line, high quality products, but are these products really delivering the quality and results that you expect from them, lets find out.
This model benefits from having extra wide plates being able to straighten the tougher more thicker hair types and cover a lot more hair, in a short amount of time.
The wide plates are great for afro hair as it needs the larger coverage and high heat for this thick, frizzy hair type.
The performance you get with this product is really astounding and quite extraordinary to be honest, because you get all the features you might expect from a very expensive high end product.
Instead they are packed into a great, low priced, neat and tidy design, that really manages to give the finish you are looking for.
Great floating plates
Intergrated micropressor
Suitable for professional use
Great sleek design
It has wide plates which means it can deal with the tougher hair types like Afro-Caribbean hair and can get more coverage in a shorter amount of time
Long swivel cord for freedom of styling
Cloud Nine wide plate black hair straightener might be right up your street, as this device delivers high quality features and a stellar experience, all while offering you a unique and stylish design.
This model is integrated with a fast temperature control setting. Helping you to reach a high temperture and quick!
Simply through a touch a button you will be able to choose the desired temperature between one of the three available.
Features -
wide plated straighteners which will cover more area of hair in shorter time
portable
once tough temperature change
2 year garentee
ceramic plates
The GHD IV styler , this is without a doubt the most ground-breaking straightener, that has the ability to style fast but with less heat.
The GHD IV Styler was named "Best Flatiron" by Allure Magazine in their coveted Best of Beauty Awards, GHD IV styler offers unprecedented styling performance and delivers gorgeous shiny, healthy results that last up to 12 hours longer.
Although this model is not as cheap as some, at £100, for a high end trusted brand of straighteners, it will be well worth the money.
These straighteners are particularly good for all different types of styling due to its rounded barrel which gives it the ability to create curls, waves and straight styles, even when you have afro (out of control) hair.
​This latest model of the GHD is well known for its ceramic heater technology plates which gives it the ability to make light work of styling the toughest textures, such as very thick, curly or afro hair.
The high technology ceramic material plates, keeps the straightener at a constant temperature to avoid hot spots which damages your hair.
Lets says the GHD IV Styler is the 'Ferrari' of the hair straightening world.
Features -
No 1 seller on amazon
It has a round barrel especially for styling
Great for the more difficult type of hair like afro hair
30 minute auto shut off feature
The Remington S7300 Wet 2 Straight 230c Ceramic Hair Straighteners are designed to use on towel dried hair.
This is a great option to have to be able to cut down the routine time of having to dry your hair before styling it.
Furthermore the straightener gets rid of the excess water vaporisation through special vents in the plates which make sure it is drying and straightening at the same time, amazing. ​
This model has advanced ceramic plates infused with frizz resist mirco conditioners which is absolutely perfect for your frizzy afro-carribean hair.
It has an array of 10 different temperatures setting available from 140-230 which is great festure to have.
Although they are designed for afro hair, all afro hair has a different texture and can be more healthy folicles or more dry and damaged, therefore its important you are able to choose the correct temperature for your hair type.
Wet 2 dry straightener
Advance ceramic plates
10 different temperatures available
auto-switch off after 60 minutes
We all know that finding the best budget hair straightener is no small feat, mainly because a lot of brands tend to focus quite a lot on giving the best value for a lot of money.
Thankfully, Nicky Clarke NSS087 Frizz Control Hair Straightener is a top selling product that delivers a very good user experience at all times.
It's by far the best product on the market thanks to the fabulous features included at an affordable price.
The long ceramic plates on this model help promote healthy hair and prevent fizz with its ionic emitted features.
They are also suitable for all hair types which means it can fulfill a wide range of needs for peoples different hair types.
Read here for the full review of the Nicky Clarke Frizz Control Straightener.
Features -
Ionic emitted to help prevent frizz and promote shine
Variable heat so suitable for all hair types
under £30 so an affordable product
Long ceramic plates on these hair straighteners promote healthy hair
Swivel cord for easy styling and plate lock for easy storage
It can be very hard to find the most professional, reliable and easy to use hair straighteners on the market.
So we have created a review for The Wazor professional 1" Digital Ceramic hair straighteners, in order to see if they really are one of the best hair straighteners for Afro Hair!
When it comes to the material, this straight away puts this product in the high end category for straighteners.
The ceramic hair straightener is a very good choice as this product manages to offer you a great quality and durability in this model. All for great value for money.
It allows you to take the experience to new heights with an amazing focus on results and a great user experience all around.
We would recommend this particular straightening material for the more difficult hair types, so the Wazor ceramic straightener is definitely a great iron for thick, curly and Afro-Caribbean hair.
As these straighteners have large, wide plates it gives quick coverage with a high heat, but also has a narrow construction to its design so can be used for your bangs.
1"-durable floating ceramic plates
no hot spots
you can save your favorite temperature with the M button
short heating time (30 seconds)
auto-shut down system
leaves your hair smooth and shiny
great for difficult hair types like Afro hair
With all the options out there, it can be nearly impossible to choose the right iron for you. Therefore for your afro-carribean hair, your best option is almost always going to be ceramic plates and a high temperature setting.
We hope we have narrowed it down enough for you to be able to have an idea on which straighteners to choose for your Afro hair.