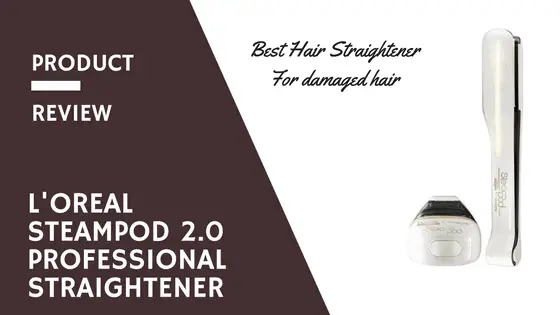 L'Oreal Steampod 2.0 Professional Hair Straightener Review
The L'oreal Steampod 2.0 Professional white straightener is different to the average pair of straighteners as it works by using steam to style your hair a bit like using an iron when decreasing your clothes.
Not only is this product unique but there are many different types of creams and keratin products that can be applied to the hair before steaming your locks which can help to restore the health of damaged hair.
Although they are optional whether you purchase these pre-straightening products, they work well alongside the steam straightener and helps to add keratin proteins to keep your hair healthy.
This straightener helps create beautifully sleek and manageable tresses with a glamorously glossy, smooth finish with a mirror-like shine. L'oreal Steampod 2.0 Professional white straightener& Rowenta Steampod 2.0 can be used to create a variety of finishes from smooth and supple looks to soft, tumbling waves.
Summary Review :
​
Product Name : L'Oreal Steampod 2.0 Professional white straightener
​
Product type: Steampod hair straighteners
​
Price: under £200
​
Summary: These steampod hair straighteners are great for damaged hair and a lot more gentle on your hair, it is reliable and great value for money.
​
What is the best material ?
The L'oreal Steampod 2.0 Professional white straightener uses a continuous flow of high-pressure steam, to straighten and style your hair. L'Oreal claims that results using the steampod are up to 50% smoother and 50% faster than a regular flat iron.
The use of steam opens the cuticles in the hair, which allows the heat and products to penetrate deeper. In addition this will mean the steampod will keep your hair straighter for longer and because steam is not direct heat it is gentler to the hair than a regular pair of straighteners.
---
What features do these straighteners hold?
Furthermore the steampod is not as quick to start up as the standard straightener as the steam needs a fair bit of time to heat up. It has a variety of different temperature settings which is perfect for suiting all different hair types. Also if you have finer type tresses then you will use the lower setting. Also if you have thick frizzy hair then you will choose the higher temperature settings.
The fact that this straightener uses steam to straightener it is a lot wider and bulkier than the average straightener. Although this is the second version created and it a lot lighter than the original. Being wide and bulky can have its advantaged as is great for thick and frizzy hair that need a lot more area to help style the mass of hair.
Furthermore it has a water reservoir that must be filled to use it which makes it even heavier. However, the results for damaged curly or frizzy hair will be a lot better with this newer 2.0 version of straighteners and leave a sleek and smooth finish.
Finally the steam pod comes with a removable comb to help control your hair through the plates when it's starting to steam your hair. A lot of customers on amazon have claimed that it helps your hair to stay smooth and glossy when using the straightener with the comb in.
In addition many recommend to detangle your hair before straightening or the comb can sometimes get caught and knotted.
---
What is the temperature ?
The original steampodwas developed back in 2011 by L'Oreal Professionnel in partnership with Rowenta Salon Electricals, and this Steampod 2.0 was launched in 2015 which comes with a lot of improvements, such as a water demineralisation filtration system, five temperature settings (140-210 degrees Celsius), anodised floating plates, and it is smaller and lighter than the original Steampod. It has a removable comb, which helps to detangle and leave the hair feeling smoother.
The best thing about the Steampod is that you don't have to go over the same section of hair numerous of times to get it perfectly straight. Even at the roots, where you have that urge to getting it completely straight, you only need to run the Steampod twice on each section and you will be happy with the results.
---
​I absolutely love this product. I never thought I would move away from my GHD's, but now find I only use them on holiday. The steampod makes my frizzy, course & curly hair so smooth & manageable that I just want to touch it all the time. The straightness also lasts so much longer than with my GHD's. I'm a total steampod convert!
T Neal
Prices
The steam pod is around £170 which is a very high price to many but I think when you find new technology that is healthier for your hair then you cannot put a price on a product that is best for your damaged hair. Especially when on many sites and beauty shops they constantly have discount deals which make this straightener even better value for money.
---
Our verdict
Overall I absolute love this straightener I have never seen another like it and I love products that stand out, with its individual features and making your damaged hair healthier, it's worth the investment. This product has many outstanding reviews to give you the trust in this modern sleek pair of straighteners.


Things we like:
Steampod straightener
Variety of temperature settings
2.0 lighter and smaller than original steampod
One glide straightener
healthier for damaged hair
Things we don't like:
Pricey
Not best straightener for waves and curls